Looking for the ultimate reward for shopping?
Look no further than our Pleasure Points Rewards Program! Earn 10 points per dollar on every purchase, and when you've collected enough, redeem them for dollars off of your next purchase. Plus, receive exclusive offers only available to members – it really pays to be a part of this club.
Who doesn't want money back just by shopping? With Pleasure Points Rewards Program, the more you shop, the more rewards you can get. This is the best way to save money while still getting what you need!
Join our loyalty program now and start enjoying all its benefits today! Sign up for free and get ready to reap some serious rewards!

HERE'S HOW TO EARN POINTS:
HERE'S WHAT YOU GET WHEN YOU REDEEM POINTS: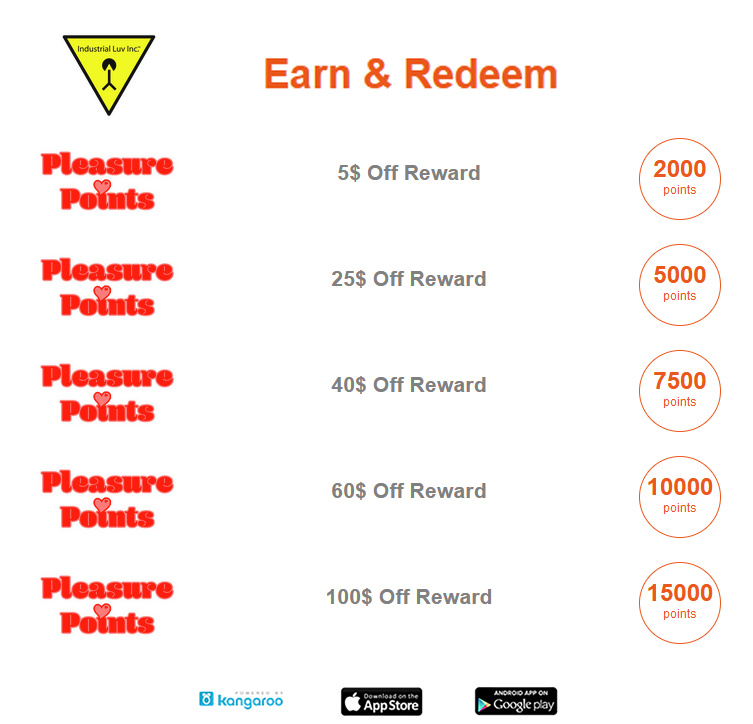 THE FINE PRINT: Points are earned on every purchase made either online through the web-store, in-person at our brick-and-mortar store, OR in-person at any trade shows or "pop up" shops we do. This means that the "welcome points" won't be added onto ones account until after their first purchase with us is completed; One does not get to use their "welcome points" towards their first purchase as the points will have not been given to them till after that first sale. Points may not be redeemed for taxes or shipping on purchases; It is up to the customer to pay for taxes and shipping. Points may be redeemed for up to 50% off the total of the purchase. Points may be collected and redeemed during sales, however the point amount is calculated off the total purchase amount after the discount - so less points will be collected for that purchase.

For referral points: The referred must make a purchase of at least $50.00 (before tax) for the points to be given to all parties. If the referred fails to make the minimum purchase, no points will be allocated to either party. The referred will earn 50 points & the referrer will earn 50 points for every successful referral.
For online product reviews: Customers will be rewarded 20 points when they review a product on our website. Maximum 2 reviews per 7 days. Review must have a minimum 20 characters. Only online reviews will be given points; in-store reviews are welcome but will not earn you points.